The 2010 Nonprofit Conference: Leadership, Imagination and Action
"We cannot solve our problems with the same thinking we used when we created them." ~ Albert Einstein


The day-long conference for nonprofit leaders and managers featured keynote speaker Paul Ray, social researcher and author of Cultural Creatives: How 50 Million People Are Changing the World. The murals below capture the essence of Paul Ray's keynote and of the World Café that followed. (Visual recordist:Christine Walker)

Leading the Great Transition



Nonprofit Conference 2010 Paul Ray mural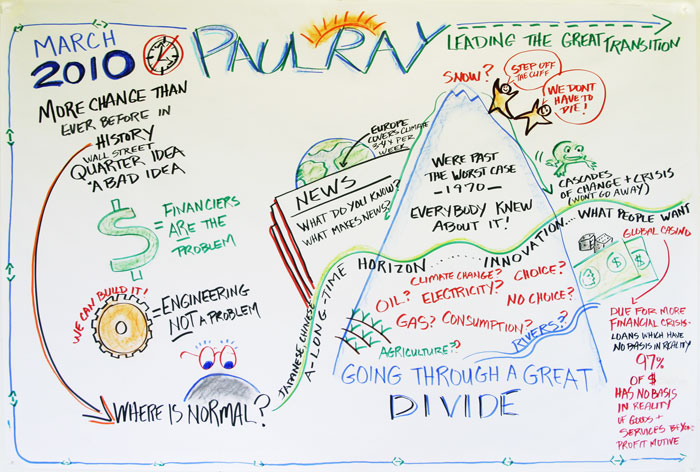 Nonprofit Conference 2010 Paul Ray mural left
In our nation and our world, we are experiencing more change within a short time than ever before in history. Our new normal must be measured by a long-time horizon—the 100-year approach characteristic of the Chinese and Japanese—not by the current U.S. quarterly profit system. Wall Street financiers and a speculative money culture—a global casino—are the problem. We're due for more financial crises because of loans that have no basis in reality for useful goods and services. But we do have more tools than ever before and abundant skills to innovate solutions for positive change.


We're going through a "great divide" from one epoch to another, and experiencing cascades of change and crisis. There is no going back to "business as usual," but we can survive and flourish by transitioning to new opportunities and creating a "wisdom culture." One third of the world's population fits with Ray's definition of "Cultural Creatives." These are people, as described in his book, "[who] care deeply about ecology and saving the planet, about relationships, peace, social justice, and about self actualization, spirituality and self-expression."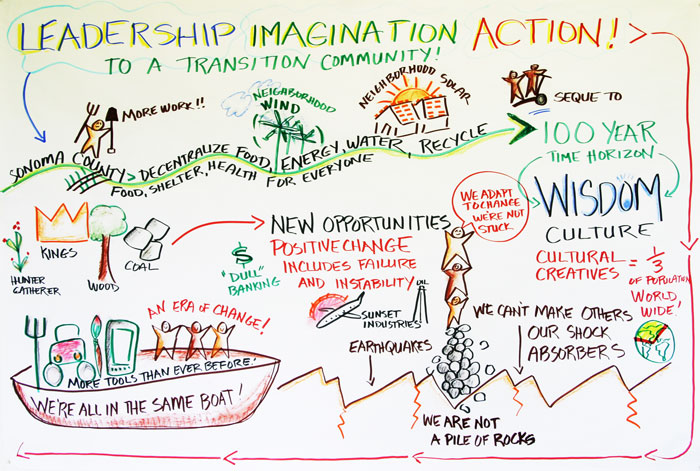 Nonprofit Conference 2010 Paul Ray mural right

The great transition to a positive future requires leadership, imagination and action. It demands a consensus that we're all in this together and requires truth-telling in the news about global climate change. It necessitates decentralization to a local and regional focus on development of resources and solutions for food, shelter, energy, water, health, and recycling. Yes, it will include failure and instability, and demand hard work, but it will bring innovation and sustainability to benefit people and their communities.


For most of human history, people lived as hunter-gatherers in small tribes, where resources were distributed equitably. Then "kingdoms" arose with power concentrated at the top. But throughout those centuries, people could still gather wood. It has taken only a few hundred years to move from wood-fueled energy to an industrialized coal- and oil-fueled economy, where large corporations control energy resources. The great transition will include the "sunset" of energy consuming industries—oil, airlines—and a return to a simpler, "duller" banking.


It's important to remember that we can adapt to change. We're not stuck. But as we change, we must be cognizant of how our actions affect others. We can't expect others to be our shock absorbers.
Let's Thrive in the New Normal

Nonprofit Conference 2010 Thrive mural

The World Café involved 250 participants gathered in clusters of four to answer questions posed by moderator Genevieve Taylor in three rounds over the course or 90 minutes. This mural represents brief recaps given by Café hosts and notes made by facilitators who listened to the conversations.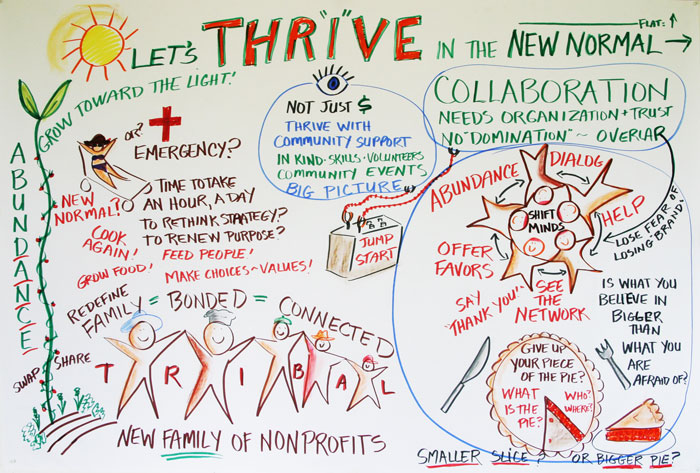 Nonprofit Conference 2010 Thrive mural left

Abundance
The word "abundance" came up frequently and, significantly, it contains "dance." This dance we do—both freely celebratory and intricately rigorous, partnering and changing partners—characterizes the new normal. We've been living through a time that feels constantly like an "emergency" and crisis, but, as one participant noted, if this is the new normal, at least for some time to come, why not relax a bit? Take an hour or a half day to rethink strategy, renew purpose, refuel, refresh. Take time to do the things that make us human, to do less commuting and more cooking, to reconsider what we value.


Family
References to family abounded in the conversations. People wanted to redefine family, to look at how we're all bonded and connected—nuclear, extended, neighborhoods, communities—and also look at the family of nonprofits. These times call for collaboration. Collaboration requires organization and trust. There will be overlap and perhaps some competition. There is fear of losing or diminishing one's "brand," but in true collaboration there is room for each organization to bring to the process what it does well. There is fear that while collaborating an organization will have to give up its piece of the pie, or take a smaller piece.
But could collaboration lead us to a bigger pie? (In Kim Klein's lunch speech, she spoke about the importance of grass roots support and the possibilities of widening the grass roots base. Even though some people think that there are too many nonprofits and some won't survive, the organizations that do will do so through collaboration and focusing on strengths and staying true to their mission.) Nonprofits need more than money to thrive; they need community support, in-kind contributions, volunteers, and an understanding of the "big picture."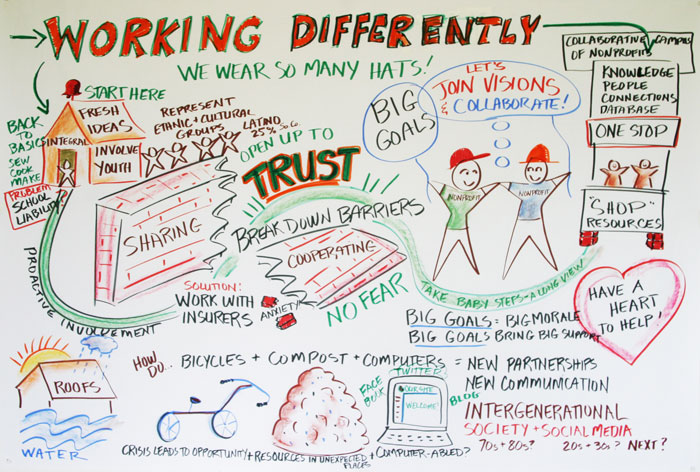 Nonprofit Conference 2010 Thrive mural right

Trust
The word "trust" surfaced again and again during the Café rounds. Conversations touched upon ways nonprofits could break down barriers to sharing and cooperation and open up to trust. Suggestions included a "collaborative campus" of nonprofits and a "one stop shop" of resources—knowledge, people, connections, databases. Big threats to "trust" are fear and anxiety. Building trust means working differently than in the past, or jumpstarting what has worked well in the past but has been abandoned for some reason.


Innovation
"Working differently" involves innovation—unusual combinations, original partnerships. For example, if liability issues are preventing program success, productivity, sharing, and cost containment, then work with insurers on solutions. Think differently. What are solutions for energy and water? Think roofs! Sonoma County has lots of them. What new partnerships could arise from bicycles, compost, and computers? What are the possibilities of social media for communication? How does crisis lead to opportunity?


Among the organizations in the room, there are constituent groups that aren't generally computer-literate or equipped and groups that are best reached through the web and mobile technology. Nonprofits must embrace both groups when planning communications and strategies, and continue to move toward a time soon when social media is fully integrated into all age groups of our society.


Youth
"Youth" as a focus and gateway came up in conversations in many ways. Why wait until people are homeless to help them? Start young to teach basic living and career skills, involve youth and their fresh ideas, make youth integral to solutions, and involve a full representation of ethnic and cultural groups.


In Conclusion
Paul Ray's 100-year transition time was remembered in the discussions. People cautioned: "Take baby steps. A long view." Over lunch, Kim Klein stated: "Big goals equal big morale. Big goals bring big support." Those quotes were later added to the mural in a bit of open space right next to "Have a heart to help." That motivation echoed richly throughout the day.


Learn more about Volunteer Center, Sonoma County, CA.
Get involved at www.volunteernow.org